When it comes to tile installation, achieving a perfect finish is crucial. However, even with great care, tile edges can sometimes become damaged or uneven. The good news is there's a simple solution: sandpaper. With a few strategic steps, you can use sandpaper to smooth down the edges of your tile and restore its beauty.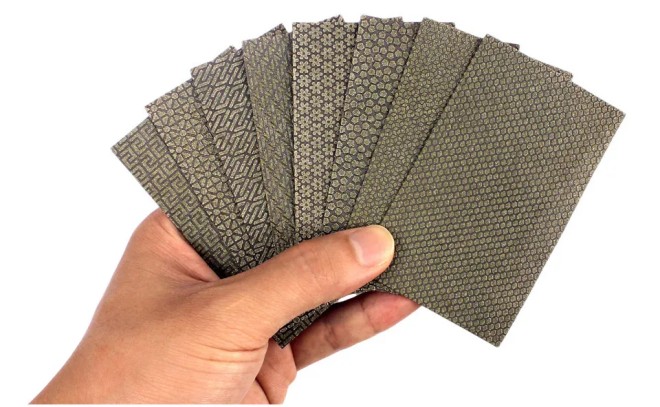 Here's how to effectively grind tiles:
Step 1: Choose the right granularity
To begin the process, it is important to choose the right sandpaper grit. To smooth and polish tile edges, choose sandpaper in the 120 to 200-grit range. This range ensures a fine finish without compromising the integrity of the tile surface.
Step 2: Gently grind
Once you've chosen the right sandpaper, it's time to start sanding. Hold the sandpaper firmly in your hand or secure it to a sanding block. Use gentle, even movements to sand the edges of the tiles, remembering that too much force may cause damage. Be patient and let the sandpaper do its work gradually.
Step 3: Be quick but not rushed
Timing is crucial when sharpening tile edges. Aim to complete the process quickly, but avoid rushing. By finding the right rhythm, you can ensure consistent and smooth results. If needed, take a break to evaluate your progress and make necessary adjustments.
Step 4: Thickness is important
For better results, consider using different thicknesses of sandpaper. Different areas of the tile edge may require different levels of polish. Thicker sandpaper can help address more prominent imperfections, while thinner sandpaper is ideal for a more refined finish. Experiment with different thicknesses to find the most effective combination for your specific needs. Remember, practice makes perfect. Start with a small test area before working your way over the entire tile surface. This will familiarize you with the sanding process and ensure you achieve the desired results.
Precautions when grinding tiles edge:
1. Safety first
Safety should always come first when using abrasive tools. To protect your hands from potential scratches and injuries, it is crucial to wear safety gloves. These gloves act as a barrier between the skin and the abrasive surface, reducing the risk of injury.
2. Avoid overuse of sandpaper
Overuse of sandpaper in one area can cause unnecessary wear and tear on the tile surface. Therefore, it is recommended to avoid moving the sandpaper up and down repeatedly in the same location. Instead, maintain a consistent and even motion around the edges of the tile. This method will help prevent excessive wear and maintain the integrity of the tile.
3. Disposal of sand and debris
Grinding creates dust, sand, and other particles that settle on the tiles. If these residues are not removed properly, they can cause unsightly scratches and marks on the surface. Therefore, after completing the grinding process, carefully remove any remaining sand or debris. This can be done using a soft cloth or vacuum cleaner to ensure the final look is clean and polished.
4. Understand the purpose of sandpaper edging
It's important to note that sandpaper edging is primarily to enhance the aesthetics of the tile, not to repair severely damaged edges. If your tiles are severely damaged, it is highly recommended to seek the expertise of a professional repairman. They have the necessary skills and tools to effectively tackle a wide range of tile edge repair problems, reducing the risk of further damage.
Here are some specific benefits of tile edging:
Aesthetics: Sanding the edges of tiles helps create a clean, even look. The rough, sharp edges of ceramic tiles can be unsightly, especially when exposed to visible areas. By sanding the edges, the tile will have a smooth and finished appearance, enhancing the overall visual appeal of the installation.
Durability: Sharp edges on ceramic tiles are more susceptible to chipping and cracking. Grinding the edges helps remove any rough or uneven areas, reducing the risk of damage and extending the life of the tiles. This is especially important in high-traffic areas or areas prone to impact or pressure, such as floors and countertops.
Easy to Clean: Smoothly ground edges are easier to clean than rough edges. Dust, dirt, and grime are less likely to accumulate in gaps, making regular cleaning and maintenance simpler and more effective. This is especially important for tile surfaces in bathrooms, kitchens, and other hygiene-conscious areas.
Hygiene: Rough or jagged edges can create small gaps where bacteria, mold, and mildew can grow. By sanding the edges, the tiles are no longer hospitable to these microorganisms, helping to maintain a clean and hygienic environment. This is especially important in areas such as hospitals, restaurants, and medical facilities where cleanliness is critical.
---
Post time: Nov-10-2023